Combining powerful storytelling, thoughtful analysis, and interactive discussion, Linda Dakin-Grimm makes the complex topic of immigration engaging to people of all political and spiritual backgrounds.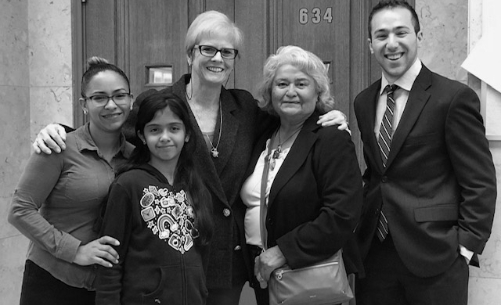 Linda with Client Monica and family at courthouse
On a pro bono basis, Linda has represented more than 75 unaccompanied children and families who must navigate the U.S. immigration system and adjust to life in Los Angeles.
With a lawyer's analysis and a social ethicist's sensitivity, Linda puts names and stories to the "issue" of immigration. Her work invites people to a deeper understanding that changes hearts and provokes action.
A senior consulting partner at Milbank LLP, Linda received her BA from Yale, her JD from Harvard Law and a masters in Theology from LMU. Ms. Dakin-Grimm is a 2020 Advanced Leadership Fellow of Harvard University. Her first book, Dignity and Justice: Welcoming the Stranger at our Border, will be published by Orbis Press in September, 2020.
New Insights for Every Audience

Putting names and faces to the "issue" of immigration, Linda's storytelling makes this complex issue accessible and makes solutions actionable.

Gain a better understanding of the historic, political, legal, and social complexities that converge in migrants' lives.

Linda's theological scholarship offers people of every religious background a framework for meaningful change — both internal and external.
"Linda Dakin-Grimm brings the careful analysis of a lawyer and the theological sensitivity of the social ethicist to our labyrinthian immigration legislation."
Emeritus T. Marie Chilton Professor of Catholic Theology,
Loyola Marymount University
Linda will work with you to find the topics and approaches that are right for your community.